As some of you know, my life has been turned upside down over the past few months. Major changes have affected the course of the future and I have faced my fair share of struggles. First and foremost, a big heartfelt thanks to everyone out there who has lent me their shoulder, ear, and kind words during this transition. I promise to keep bribing you with baked goods!
A few weeks ago I had another foodie order, this time for vanilla cupcakes with peanut butter buttercream frosting for someone's birthday. With this challenge at hand, off I went to dig up something tasty and inevitably put together these goodies using a
Martha Stewart recipe
for the cupcakes and a
Food.com recipe
for the frosting. Even thought I didn't receive any feedback from the folks who received the cupcakes, I am fairly confident this is the best vanilla cupcake recipe I've ever made and the peanut butter buttercream frosting was to die for!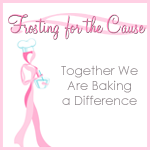 On a side note, please be on the lookout soon for a special posting collaboration I'm doing with
Frosting For The Cause
. It is a wonderful group doing good things to raise awareness of the fight against cancer and am very excited to be able to participate!
Vanilla Cupcakes
Adapted from: Martha Stewart
3 cups all-purpose flour

1 1/2 teaspoons baking powder

3/4 teaspoon salt

12 tablespoons (1 1/2 sticks) unsalted butter, room temperature

1 1/2 cups sugar

4 large eggs, room temperature

2 1/2 teaspoons pure vanilla extract

1 1/4 cups rice milk
Preheat oven to 350 degrees. Line cupcake pans with liners; set aside. In a medium bowl, whisk together flour, baking powder, and salt. In a large mixing bowl, cream together butter and sugar until light and fluffy. Add eggs, one at a time, mixing until incorporated; scrape down sides of bowl, and beat in vanilla.

Add flour mixture and milk alternately, beginning and ending with flour. Scrape down sides and bottom of bowl.

Divide batter evenly among liners, filling each about three-quarters full. Bake until tops spring back when touched, about 20 minutes, rotating pan once if needed. Transfer to a wire rack; let cool for 5 minutes. Remove cupcakes from pan, and let cool completely on wire rack.
Peanut Butter Buttercream Frosting
Adapted from: Food.com
12 tablespoons unsalted butter, softened

3/4 cup smooth peanut butter, don't use old-fashioned or natural brand

1 1/8 cups confectioners' sugar

1 1/2 pinches table salt

3/4 teaspoon vanilla extract

1 1/2 tablespoons heavy cream
In standing mixer fitted with whisk attachment, beat butter and peanut butter at medium-high speed until smooth, about 20 seconds. Add confectioners' sugar and salt; beat at medium-low speed until most of the sugar is moistened, about 45 seconds. Scrape down bowl and beat at medium speed until mixture is fully combined, about 15 seconds; scrape bowl, add vanilla and heavy cream, and beat at medium speed until incorporated, about 10 seconds, then increase speed to medium-high and beat until light and fluffy, about 4 minutes, scraping down bowl once or twice.